Upaya Meningkatkan Keaktifan Siswa Dalam Hal Ketepatan Waktu Mengerjakan Tugas Saat Pembelajaran Online Di Masa Pandemi Covid-19
Sarjino Sarjino

SMK Wiworotomo Purwokerto
Keywords:
Keywords: Timeliness, Online Learning Model, Whatshap Group
---
Abstract
This study aims to improve the timeliness of students in collecting assignments on google form for the online method of Light Vehicle Engineering Chassis Maintenance on the subject of Diagnosing Automatic Transmission Damage for Class XII odd semester SMK Wiworotomo Purwokerto Pelajar 2020/2021. This Classroom Action Research was carried out in class XII TKRO 5, SMK Wiworotomo Purwokerto, in the subject of Maintenance of Light Vehicle Engineering Personnel Chassis 2 with the subject matter of Diagnosing automatic transmission damage in odd semesters of 2020/2021 academic year through accuracy and time differences in submitting assignments on google. form. The timeliness and time difference is to see the activity of students. Because the increase in student activity can also be influenced by the use of internet media or other media. In this chapter, data on the results of research on improving the timeliness of students in doing assignments on google form will be presented to diagnose automatic transmission damage by maximizing the WA group class to communicate it. The results of the research are described in the form of stages consisting of learning cycles in the teaching and learning process in the classroom. This action research uses the action research model from Kurt Lewin, which states that one cycle consists of four main steps, namely (1) planning (planning), (2) action (action), (3) observation, (4) ) reflection (reflection). Data analysis was carried out repeatedly, continuously during the process of data collection and analysis. The data obtained include data on student learning outcomes tests for each cycle, data from observations of teacher activities and data from observations of student activities. Based on the results of research from cycles 1 and II, it can be concluded that maximizing the WA group class before and after learning can improve the timeliness of students in doing assignments on google form material Diagnosing Automatic Transmission Damage Class XII TKRO SMK Wiworotomo Purwokerto Academic Year 2020/2021.
---
Downloads
Download data is not yet available.
---
References
Arikunto, Suharsimi dkk. 2006. Penelitian Tindakan Kelas. Jakarta: Bumi Aksara.
Mulyasa. 2009. Praktik Penelitian
Tindakan Kelas. Bandung: Rosda.
Dikutip dari "Acmad Muparok, 2013 "Meningkatkan Hsil Belajar Siswa Tentang Mempertahankan Kemerdekaan RI Melalui Media Visual pada pembelajaran IPS "
http://gg.gg/mkz03
https://sibatik.kemdikbud.go.id/inovatif/assets/file_upload/pengantar/pdf/pengantar_3.pdf
http://gg.gg/mkz42
http://repository.upi.edu/5920/6/S_IPS_KDTASIK_0903572_Chapter3.pdf

Chairil. 2009. Media Pembelajaran
D. Zhang, J. L. Zhao, L. Zhou, and J. F. Nunamaker, "Can e-learning replace classroom learning?," Commun. ACM, 2004.
Dimyati dan Mudjiono. 2006. Belajar dan Pembelajaran. Jakarta: PT Rineke Cipta
Indarti, Titik, Penelitian Tindakan Kelas dan penulisan ilmiah: prinsip-prinsip dasar, langkah-langkah dan implementasinya. Surabaya: FBS,UNESA.
Kunandar. 2013. Langkah Mudah Penelitian Tindakan Kelas Sebagai Pengembangan Profesi Guru, Jakarta: Rajawali Pers
Kusuma, Wijaya. 2009. Mengenal Penelitian Tindakan Kelas. Jakarta: PT Indek.
---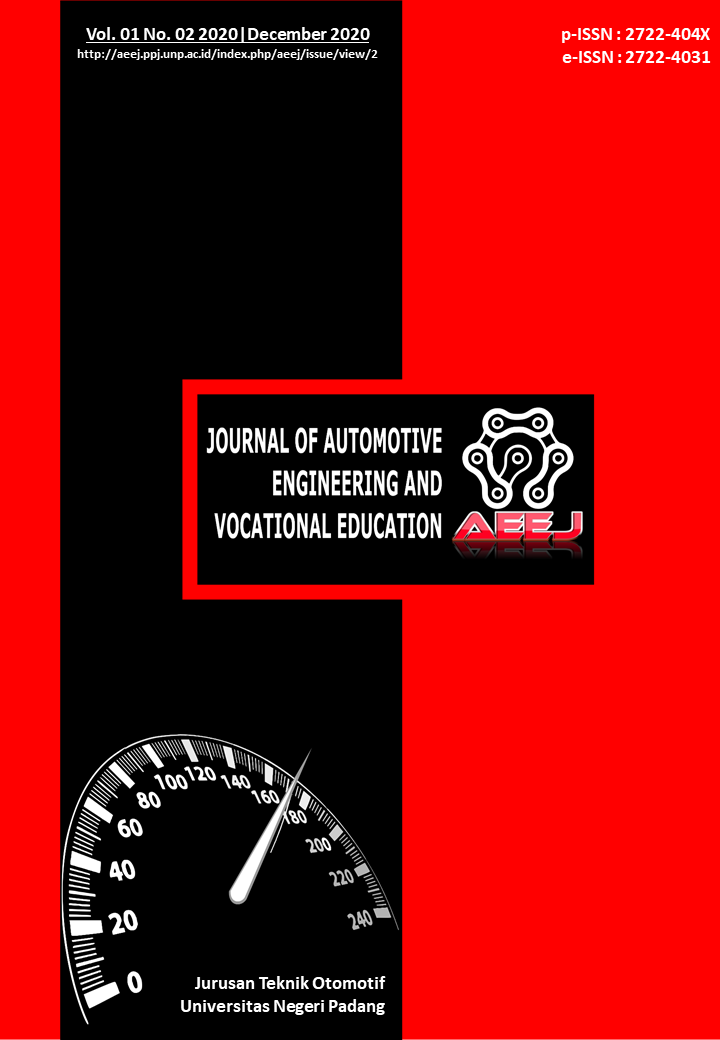 How to Cite
Sarjino, S. (2020). Upaya Meningkatkan Keaktifan Siswa Dalam Hal Ketepatan Waktu Mengerjakan Tugas Saat Pembelajaran Online Di Masa Pandemi Covid-19. AEEJ : Journal of Automotive Engineering and Vocational Education, 1(2), 111-118. https://doi.org/https://doi.org/10.24036/aeej.v1i2.24
---
This work is licensed under a Creative Commons Attribution 4.0 International License.
---